You and your mates are coming to Vilnius for an epic stag night? Then you found the right offer for great stag weekend! Our team offers amazing stag weekend in Vilnius package which includes kayaking, urban exploration, picnic on an island and rope jumping off the bridge.
| | |
| --- | --- |
| Length of the program | 4-6 hours, depends on your speed and weather |
| Price | €70/person (minimum €420) |
| Distance of kayaking | 16 kilometers |
| Number of activities | 4 – kayaking, underground exploration, picnic on an island, ropejumping |
1st adventure – Kayaking in Vilnius – 16km paddling in Neris river
Our team will meet you at the time we agreed in starting place (for location click on the link). We will give you lifejackets, helmets, flashlights, rubber boots, instructions and a guide, who will be with you during all the adventure. Kayaking route is pretty easy, no experience or much power is needed – if you are tired you can always go by the flow. Our guide will teach you how to paddle efficiently and how to work together in a pair. We will provide you:
Double kayaks with soft seats, lifejackets and paddles.
Guide who will be together with you during all the trip.
Transportation back to the city from finishing place.
Some photos from the route you will be going:
2nd adventure – Urban Exploration in Vilnius during stag weekend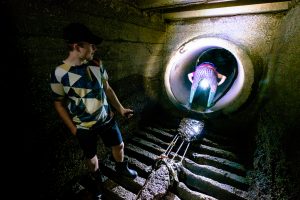 While kayaking your group will visit 2 rain collecting underground systems. These systems are located along the river. So you will just leave kayaks on the shore and go straight into cold, wet and dark underground Vilnius which will make your heart beat faster and your breath slower. Guide will go together with you and he will make sure that you are safe out there. If it is raining outside then this part of the activity has to be skipped. Every person from the team will get:
Rubber shoes which will protect you from cold underground water.
Flashlight which will show you the way in underground tunnel.
Helmet which will make sure your head is safe during adventure.
3rd small adventure – picnic on an island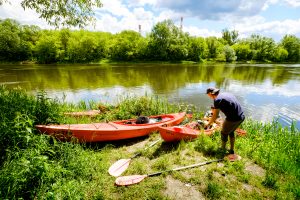 Physical activity needs energy, so after 1 underground system and about 6 kilometers of kayaking you will have a short break in one of Neris river islands. Every person will get one sandwich, one small bottle of cola and one banana. If you are vegetarian or don't eat specific products let us know before the tour and we will make sure that everyone is happy with their food! This short snack will make sure you are not hungry until the end of the route.
4th adventure – Rope Jumping off the bridge in Vilnius
Final adventure is cherry on top of a cake. Everyone from your team is going to jump off the bridge. Person who is jumping will be clipped to 2 ropes with 2 carabiners, he will have to go on the edge of the bridge, wait for the countdown and step into unknown. Many thoughts in your mind, somebody shouts ONE, TWO, THREEEEE and you jump off the edge. Amazing emotions fill your body and you are going back to the top. After everybody who wants to jump off the bridge finishes – our transport will pick your team and will transport back to the city.
Rope Jumping Vilnius gallery:
Contact us: